Exhibition > Past Exhibition
Past Exhibition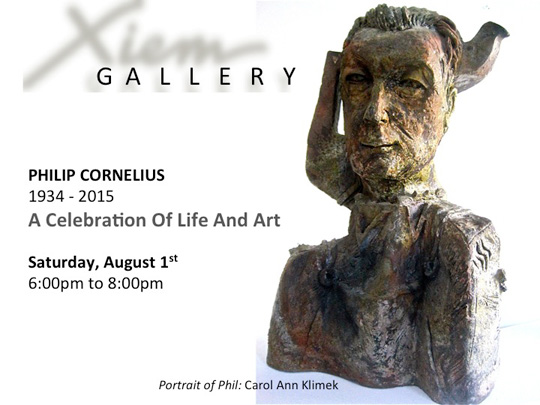 ---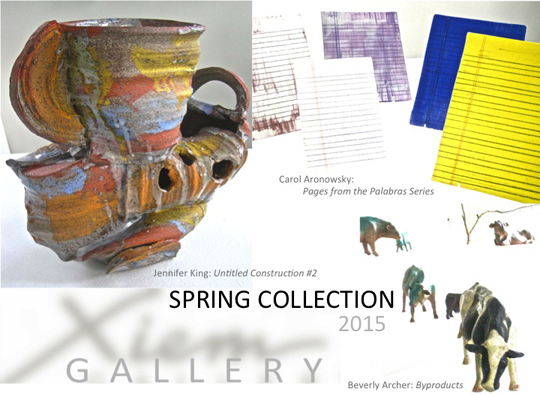 Xiem Gallery's seasonal selections showcase ceramic art produced by Xiem Studio members and local Artists. Prominently featured in our Spring Collection is Byproducts – a herd of cows by Beverly Archer , and fresh new works reflecting the change of season from a number of Xiem Artists.
EXHIBITION:
Spring 2015
ARTISTS:
Beverly Archer
Bianca Pulitzer
Carol Aronowsky
Cyndi Jarasunas
Ellen Hsu
Heidi Mollenhauer
Jen Kuroki
Jennifer King
Junzo Mori
Kaori Littler
Patrick Husted
Pauline Wolstencroft
Pilar Wiley
Sally Anne Stahl
Sara Petersen
Sharon Mann
Shelley Marks
Steve Horn
Tom Glavich
Tracy Wilkinson
DATES:
April 4th through July 4th
WHERE:
Xiem Gallery Please note our Holiday Hours.

Click here for Direction and Hours
GALLERY EVENT:
Opening Reception and Junzo Mori's Retirement Party
Saturday, April 4th (6 – 8pm)
---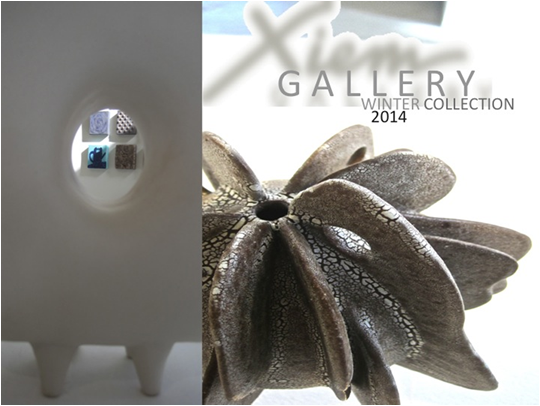 Xiem Gallery is proud to present our Winter Collection - a seasonal selection of unique Ceramic Art by Members of Xiem Studio and local Artists:
EXHIBITION:
Winter 2014
ARTISTS:
Ako Castuera
Bari Ziperstein
Beverly Archer
Bianca Pulitzer
Caroline Blackburn
Cathy Reichel-Clark
Ellen Hsu
Heather Rosenman
Hiroyuki Tokimatsu
Jennifer King
Jerry Kwock
Joan Mannos
Jonathan Cross
Joseph Fernandez
Ray Doi
Roger Presburger
Sierra Pecheur
Steve Horn
Titia Estes
Tomas Owen
Tracy Wilkinson
Will Scheffer
DATES:
Through February 28th, 2015
WHERE:
Xiem Gallery
GALLERY HOURS: Tuesday – Saturday (11:00am – 5:00pm)
Please note our Holiday Hours.

Click here for Direction and Hours
IMAGES:
Xiem Gallery Winter Collection
Left to Right::

Heather Rosenman: Wonder Portal
Steve Horn: Wall Works
Titia Estes: Untitled I
---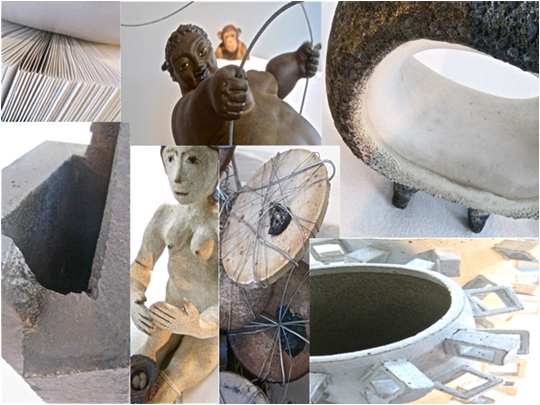 We are delighted to present our Fall Selection of work by exceptional local artists.
Many of the artists are associated with Xiem Studio - either as members or instructors.
We are especially pleased to be showing new pieces by Junzo Mori, our renowned studio technician.
---
To celebrate our 10th anniversary, we are delighted to present a selection of recent figurative sculpture and wall pieces by some of the exceptional artists who have had one-person shows in Xiem Gallery since we opened in 2003.
---
Stoked!

Stephen L. Horn / Bill Henke / Kevin Myers / Kent Rothman / Joe Soldate / Richard White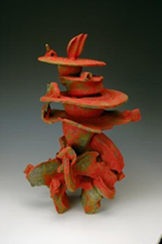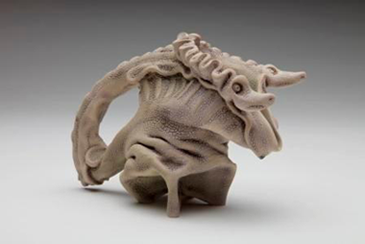 September 30th – November 19th
Curated by Stephen L.Horn and referencing Fire and Water, Pasadena Arts Council's AxS 2011 festival, Xiem Gallery presents an exhibition exploring the theme of ceramic artists who surf.
EXHIBITION:
Stoked!
ARTISTS:
Stephen L. Horn
Bill Henke
Kevin Myers
Kent Rothman
Joe Soldate
Richard White

DATES:
September 30th – November 19th
GALLERY RECEPTION:
Friday, September 30th (7:00pm – (9:00pm)
ARTISTS' TALK:
Saturday, October 8th (2:30pm)
WHERE:
Xiem Gallery
GALLERY HOURS: Tuesday – Saturday (11:00am – 5:00pm)

Click here for Direction and Hours
In celebration of the richness of the local ceramic art scene, Xiem Gallery invited renowned Pasadena ceramic artist and educator Stephen Horn to curate our AxS 2011 festival show. In response to the festival theme "Fire and Water", Steve came up with the evocative title Stoked! referencing the parallel universe of what he terms the "tribe" of ceramic artists who surf.

Steve's take on the festival theme is quirky yet exquisitely pertinent to a local festival - while kilns and the stoking thereof are areas of common experience for potters worldwide, the dual pursuit of forces of fire and water as defining elements of personal expression, appears to be unique to California clay.

A life-long surfer and ceramic artist, curator Steve Horn will present his own work in the company of works by a group of eminent ceramic artists who surf. The exhibition promises to reveal fascinating correspondences in the passionate commitment to form, play, courage, balance and open-ended exploration germane to both disciplines.
ABOUT THE ARTIST/CURATOR:

Stephen L. Horn received an M.A. in art from California State University, Fullerton, in 1975, and an M.F.A. from that same institution in 1996.

Since the late 1960s, he has worked his own studio and taught ceramics at several colleges in Southern California, including Riverside Community College, where he is currently a full professor of art and chair of the art department.

Steve also served as an arts commissioner for the City of Pasadena.

Learn more about Steve »
---