Current Exhibition
Current Xiem Gallery Exhibition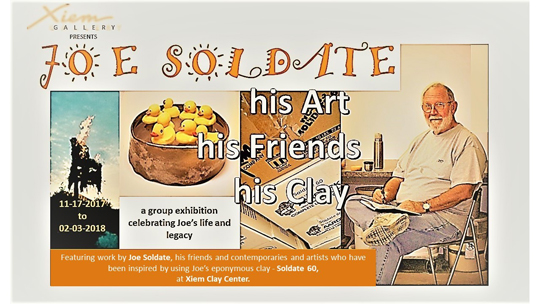 Joe Soldate passed away in 2014, but Soldate 60 - the clay body he developed for his CalState LA students to use in the 1960's continues to grow in popularity - an enduring tribute to the practical ingenuity of this extraordinary artist. Produced by both Laguna Clay and Aardvark Clay Supplies, Soldate 60 is still the go-to stoneware clay for beginners and established artists in SoCal schools and studios and beyond.

Following a lengthy and illustrious teaching career, Joe joined Xiem Clay Center in 2006. A benign and inspiring presence in the studio for several years, he was sorely missed when he became too ill to continue. While the clay body he developed remains a vital part of the conversation for so many ceramic artists, sharing the origins of Soldate 60 with the community has become increasingly difficult. For despite his stellar reputation, researching the usual internet channels to find out more about Joe Soldate proves frustrating.

Those who knew him well may speculate as to whether this was intentional: Joe was primarily a conceptual artist, who didn't much care about promoting or even documenting his work. He delighted in impermanence and consequently many of his pieces were left unfired - built to disintegrate. Or perhaps he was simply modest.

Be that as it may, his work and his world-view were revolutionary. And this exhibition is an attempt to refocus the narrative. In collaboration with Christine Soldate and Joan Aebi, Xiem Gallery is gathering a small selection of Joe's work and placing it and his clay in the context of work produced by some of his former students, his contemporaries and a new generation of clay artists who know little about Joe, though they know Soldate 60 really well.

By turning this spotlight onto Joe and his joie de vivre, we hope to illuminate his life and legacy for the Xiem community and a wider audience. Enjoy!
EXHIBITION:
JOE SOLDATE: his art, his friends, his clay
ARTISTS:
Joe Soldate, his students and contemporaries + selected Xiem studio artists
DATES:
November 17th 2017 – February 3rd 2018
GALLERY RECEPTION:
Friday, November 17th (6.00pm – 8.00pm)
WHERE:
Xiem Gallery

Click here for Direction and Hours

*On the occasion of "Stoked" – an exhibition reflecting on surfing and ceramics, curated for Xiem Gallery by Stephen L. Horn

Joe Soldate - in conversation.
Xiem Gallery, July 2011
"Stoked!" is magic. Hard becomes liquid. Liquid becomes hard



I was born in Blythe, CA: 5/12/37. A year out of high school I bought my first long board. Surfing and hotrods had magic for me in the 1950's. We'd talk of "firing up one of those suckers!" on Friday nights. And we surfed at Stanleys, at Malibu, down south. On a surfboard there is a sensation of a growing pressure that blooms into a wave. And you'd feel a pressure growing in the middle of your chest, knowing you were hooked, on. Then came that moment of amazing energy - when you knew you could do this. I used to giggle a lot. Still do. Water – it can be hard as ice, and then it melts.

Using kilns is a marker of time. Stoking of kilns goes back 3,000 years. My first ceramic experience was unloading kilns at a brick yard. I was 14. Later I took some pottery classes at Chaffey College. When you are firing a kiln, you exercise control – like a king or a god. It's a reactionary situation. I had no desire to stoke kilns.

In 1986 I built a straw-bound chair to set on fire. Burning Chair was an installation and performance at Sun Valley Center for the Arts, in Idaho. I am more interested in process than conclusion. I enjoy remnants. Sometimes I use clay in my work. I often use time. I like the pressure and rhythm of time-based events. Errosion/Process 1974 – 76 at UC Irvine and Mount San Antonio was a series of unfired clay and lath installations referencing architecture. They disintegrated in the gallery. Show over. Sweep it up.

I like the unpredictable, the chase. I make a quiet zone, even when I'm surrounded by many people. In my teaching I tried to open things up - let's see what happens. Once I got my students to glaze rocks.

For the original text of this article and Joe Soldate's bio see http://www.xiemclaycenter.com/Gallery/FeaturedArtists/Joe_Soldate.aspx


---