About Our Events > Current Events
Current Event(s)
EXPLORE + CONNECT + COLLECT
Pasadena's Premier Contemporary Ceramics Event!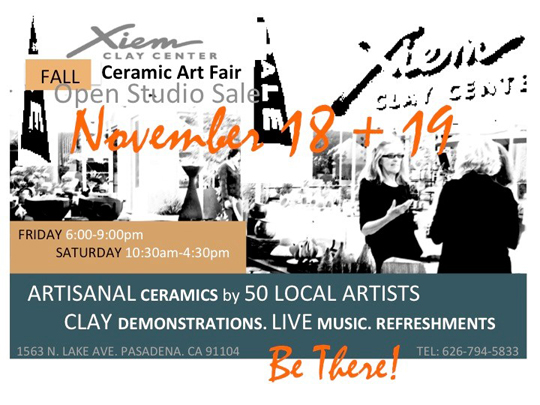 Xiem Fall Ceramic Art Fair and Open Studio Sale showcases the skill and passion of 50+ studio artists associated with Xiem Clay Center. Come meet the artists, discover new talent and view their latest work. The show features literally hundreds of unique hand-made ceramics, with a wide range of prices. Join us *Friday evening for the best selection, refreshments and live music. Add to that a full program of pottery and sculpture demonstrations on Saturday. Treat yourself and your best beloveds to one-of-a-kind treasures, just in time for the holidays…and leave inspired!
EVENT:
Xiem Fall Ceramic Art Fair & Open Studio Sale
ARTISTS:
Xiem Studio Members and Invited Local Artists
DATES:
November 18 and 19
HOURS:
Friday 18,

6 pm– 9pm

and Saturday 19,

10:30am – 4:30pm





*LIVE MUSIC:

Friday from 6:00pm – 8:30pm presented by
TOTI O'Brien /

ERIC

Rosendahl / BUZHARD Dakota



WHEEL THROWING/POTTERY DEMONSTRATIONS:


Saturday from 11:00am – 3:00pm
presented by HEATHER Rosenman / CAROLINE Blackburn /

TREVOR

Raham /

JAMES

Gregory
ARTISTS:
ADI Mizrahi / BECKI Chernoff / BIANCA Pulitzer / CATHERINE Rowe /CATHY Akers / CATHY Reichel-Clark CHRISTINE Schwandt / CINDY Jarasunas / DAARINA Abdus-Samad / DOUG Louie / ELSPETH MacDougall / EVELYN Dailey / FUMIYO Guzman / GINKO Lee / JEANETTE Crofts / JENNIFER McGraw / JOAN Laidig / JOLANA Pineda / JUNE Wong / KAORI Littler / KATHRYN Hribar / KIMBERLEIGH Aarn / LAURA Knell / LISA Simone / LOURDES Jimenez / LULU / MARGARET Magallanes / MARY Hawkins / MELINDA Forster / MICHAEL Sbicca / NANCY Koon / NEDDA Atassi/ PAWENA Thimaporn / PIPPI Guilfoyle / RON Hellmann / ROSA Dennis / SALLY ANNE Stahl / SANDY Krause / SHARON Mann / SIERRA Pecheur / TINA Huang / TOM Glavich / TOM Recchion / TOTI O'Brien / YASUE Yoshioka / YOKO Iida / YVETTE Trinh
---