Exhibition > Featured Artists
Joe Soldate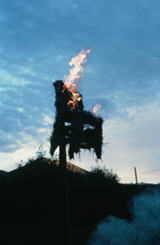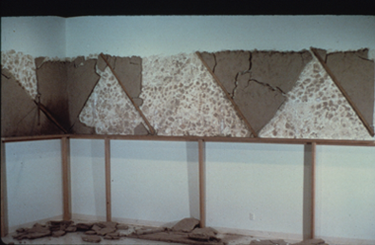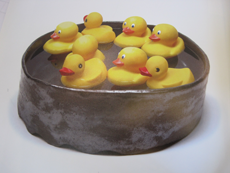 Joe Soldate - in conversation.
Xiem Gallery, July 2011
"Stoked!" is magic. Hard becomes liquid. Liquid becomes hard

I was born in Blythe, CA: 5/12/37. A year out of high school I bought my first long board. Surfing and hotrods had magic for me in the 1950's. We'd talk of "firing up one of those suckers!" on Friday nights. And we surfed at Stanleys, at Malibu, down south. On a surfboard there is a sensation of a growing pressure that blooms into a wave. And you'd feel a pressure growing in the middle of your chest, knowing you were hooked, on. Then came that moment of amazing energy - when you knew you could do this. I used to giggle a lot. Still do. Water – it can be hard as ice, and then it melts.

Using kilns is a marker of time. Stoking of kilns goes back 3,000 years. My first ceramic experience was unloading kilns at a brick yard. I was 14. Later I took some pottery classes at Chafey College. When you are firing a kiln, you exercise control – like a king or a god. It's a reactionary situation. I had no desire to stoke kilns.

In 1986 I built a straw-bound chair to set on fire. Burning Chair was an installation and performance at Sun Valley Center for the Arts, in Idaho. I am more interested in process than conclusion. I enjoy remnants. Sometimes I use clay in my work. I often use time. I like the pressure and rhythm of time-based events. Errosion/Process 1974 – 76 at UC Irvine and Mount San Antonio was a series of unfired clay and lath installations referencing architecture. They disintegrated in the gallery. Show over. Sweep it up.

I like the unpredictable, the chase. I make a quiet zone, even when I'm surrounded by many people. In my teaching I tried to open things up - let's see what happens. Once I got my students to glaze rocks.
JOE SOLDATE

Education
1964 MFA – Claremont Graduate School
1959 BA – California State University, Long Beach

Teaching Experience
1990 - 2004
Program Head, Sculpture Department/Studio Arts Option
California State University, Los Angeles, California
1966-1990
Program Head, Ceramics, Department/Studio Arts Option
California State University, Los Angeles, California


Exhibitions
Selected Solo and Group shows from 1969 – 2005
2004
Standing Room Only
Scripps Ceramic Annual, Ruth Chandler Williamson Gallery
2000
Joe Soldate – March 2000
San Bernardino College
1999
Artists and Teachers
San Bernardino Valley College, San Bernardino, California
1997
The Big Wave
Andrew Shire Gallery, Los Angeles
1995
TJoe Soldate
Space Gallery, Los Angeles, California
1989
100 Years of Ceramic Work
Northern Arizona University
1987
Joe Soldate: Nothing Is Ever As It Appears
California State University, Los Angeles
1986
A Treasure Map/Forgotten Information
a site specific sculpture, University of San Antonio
1985
Joe Soldate: The Visitation
Los Angeles Harbor College Gallery, Wilmington, Claifornia
Sculpture Today
Sun Valley School For The Arts Gallery, Sun Valley, Idaho
1982
Joe Soldate: Recent Works-Past/Present
Salathe Gallery, Pitzer College, Claremont College, California
1979
A Century of Ceramics in the USA
Cooper-Hewitt Museum, New York, New York
100 Current Directions in Southern California Art
Los Angeles Institute of Contemporary Art, California
1975
5 Sculptors
Mt St Mary's College, Los Angeles, California
1969
4 Sculptors
Downey Museum of Art, California
Visiting Artist/Professor
Joe presented many public lectures between1987 - 97 and spent time as a visiting artist/professor in Texas, Idaho, Canada and California in 1984 -89. He is on the Advisory Board of the Flintridge Foundation, Pasadena, California.

Joe Soldate developed the renowned California clay bodies known as Soldate 60 and Soldate 30 for his students while teaching at Cal State LA in 1968.
← Back to previous page